Reviewed for Anglicans Online
by R. Mammana
From Canterbury to Canterbury
A review of
Shaping a Colonial Church: Bishop Harper and the Anglican Diocese of Christchurch
Edited by Colin Brown, Marie Peters and Jane Teal.
University of Canterbury Press, 2006. ISBN 1877257443.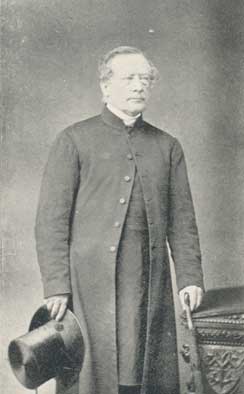 This attractive book brings together eight research papers and two essays on the life of Henry John Chitty Harper (1804-1893), the first Bishop of Christchurch, New Zealand. It also incorporates dozens of archival photographs and color prints to mark the sesquicentennial of the Diocese of Christchurch; it is the fruit of more than a decade of research in extensive archival collections related to Harper's life, some of which have come to historians' attention only recently. The book supersedes two earlier biographies, one published in 1909 and limited in its own scope, the other a brief treatment from 1956.
Harper was 52 years old when he arrived on the Southern Island of New Zealand with his wife and ten of his fourteen surviving children—a very large family even by the standards of the time. Although he was able to build on the earlier missionary work of the Church Missionary Society and his close friend George Augustus Selwyn (the first Bishop of New Zealand), Harper faced a life very different than the one he had known in England as a school chaplain and country parson. Christchurch was then "no more than a rough pioneer village" with about a thousand inhabitants. By the end of his episcopate in 1889, the population had soared to almost 50,000. Goldrushes and subsidized settlement schemes encouraged rapid immigration and called on the church's resources for parish ministry, education and many aspects of cultural life. In the 1870s alone Harper oversaw the building and consecration of 47 new churches to meet the needs of his fast-growing diocese.
Individual papers examine Harper as a colonist and bishop; as an administrator, educator and social reformer; liturgy and music during the Harper episcopate; and the religious life of the indigenous Maori people in the Diocese of Christchurch in the second half of the nineteenth century. Margaret Lovell-Smith writes on the difficulties—and remarkable success—of Harper's work in organizing a diocese that covered most of an entire island more or less from scratch. Katherine Orr-Nimmo looks at the clergymen Harper recruited for missionary life. Allan K. Davidson and Michael Blain are the authors of two particularly interesting papers: on Harper as the first primate of New Zealand, and on Harper's careful but imperfect response to ritualist and church constitutional controversies. In Brian Carrell's memorable words, "Harper steered his diocese through rough liturgical waters by setting a course that avoided both the rocks of novel ritual extremism and the doldrums of strict rubrical conformism."
This multifaceted portrait of Harper is generally sympathetic but far from hagiographical; he emerges as a bishop willing to adapt English church methods to the needs of pioneer New Zealand life in the interest of building a healthy, effective and rooted local church. As an accessible, thoughtful, well-written and wide-ranging collection, Shaping a Colonial Church deserves a wide audience.
---
R. Mammana is an editor of Anglicans Online. His articles and reviews have appeared in Sobornost, Anglican Theological Review, The Living Church, Touchstone and The Episcopal New Yorker.